Firm commitment to service and continuous effort by the staff has brought about a rapid and consistent growth of the Practice since its inception.
Our Partners: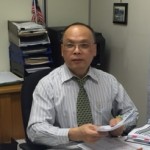 Mr Kee Guan Saw (Founder and Senior)
B.Ec(Acc), CA, MBA(Monash)
Mr Tiong P. Ting
BA, ACIS, FCA(E&W)
Mr Edward Chong
B.Ec(Acc), CPA
Phillip WU, CPA
Beside the partners, the practice is supported by a number of highly qualified professionals who have extensive and diverse industry experience.
All Partners and staff members are multilingual and are fluent in many Asian languages and dialects. This has been a very valuable bridge in assisting the many small businesses operating in and around Victoria in meeting their statutory obligations and improving their business bottom line.
We are also very active in assisting Asian entrepreneurs from countries like China, Hong Kong, Indonesia, Malaysia, Singapore, Taiwan and other Asian countries, in seeking business and investment opportunities in Australia.